Trust your precision steel erection project to an experienced team who is always up for the challenge.
Large or complex builds? We love 'em. If you've got a project that requires a precision steel erection company, call on Koenn Construction.
As a building contractor or erector, we specialize in large or complex projects that demand detailed and quality craftsmanship. This is where our crews shine.

As a subcontractor, we're competitively priced and responsive to GC needs. We know what's needed of us since we GC jobs ourselves.
We keep your project on track and in scope with meticulous pre-planning, realistic project goals, and open communication.
We have Certified Welders, Insulated Metal Panel Installers, Equipment Operators—even MSHA-trained crews to work on mine sites.
Our safety certs include OSHA 10s and 30s. We also have a very good NCCI rating and loss control records.
Subcontractor to Prime Contractor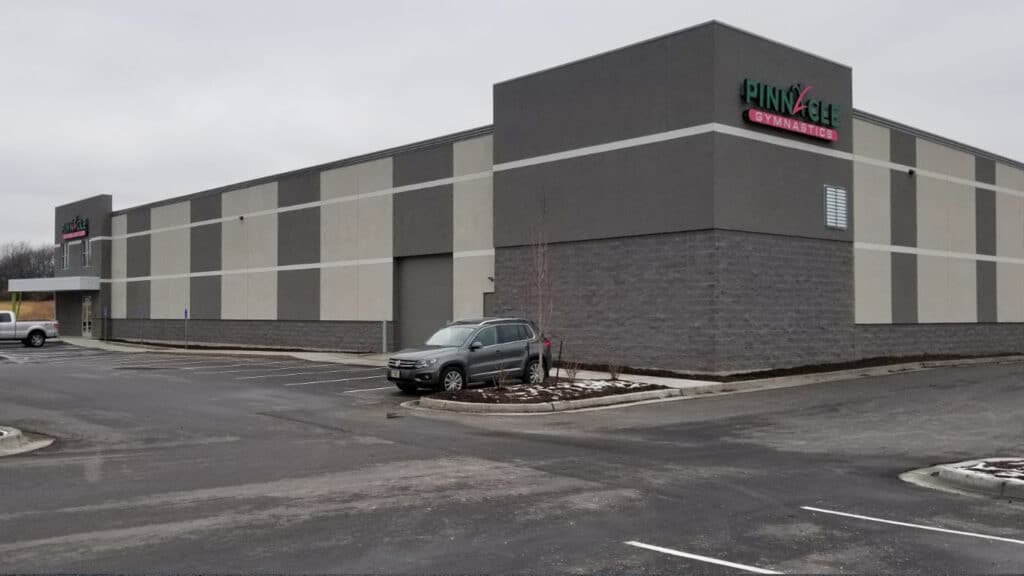 Construction Type: Pre-engineered metal building; Structural Steel Mezzanine
This was a project were we acted as the building contractor and provided the metal building, structural steel, insulation, specialty wall panels, roof curbs, and erection.
This project really looks convincingly like conventional construction but its just a PEMB! Enjoyed working with Rothwell Construction and Pinnacle Gymnastics owner Morgan Kuchynka.
We can rely on them. Koehn takes care of everything on the front end so there are no issues on the back end; they account for things. They manage the variables and anticipate these experiences, so things are accounted for ahead of time.